LEADER OF YEAR 2018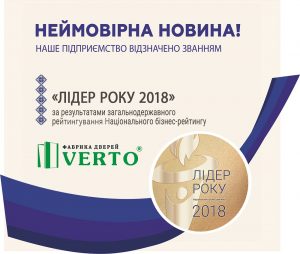 Dear Partners and Colleagues!
We are writing to inform you that LLC "FACTORY OF DOOR "BUDMAYSTER" has been awarded the title "LEADER OF YEAR 2018".
We took first place (Gold rating) among business partners by indicator
"Dynamics of Net Asset Value" as a result ranking of Ukrainian enterprises by financial and economic indicators.
According to the results of the National Business Rating survey, our company is recognized
one of the most effective enterprises of Ukraine in its field, and confirmation of high status,
reliability and efficiency of business became the prestigious award "The leader of the year 2018".